It is a criminal offence to supply products that do not comply with the UK Construction Products Regulations. For fire door fittings intended for use against fire, markings will be the easiest method to demonstrate compliance. The Building Control Officer or other approved inspectors or a Trading Standards Officer, however, will require proof of this compliance. Across the UK construction industry and in Europe,  construction products are being tested to new EN Standards to ensure that fire safety and performance requirements are met in future building projects. Door hardware will eventually have 21 new EN Standards. For many ironmongery items you will need to ensure that only marked products are used on all fire doors, smoke control doors and escape doors.
Fire Door Closers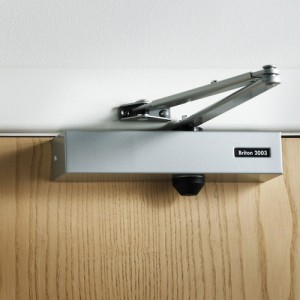 All dedicated fire doors, other than those to locked cupboards and service ducts, should be fitted with fire door closers. To be effective these must be capable of closing the door from any angle of opening and should be strong enough to overcome the resistance of any latch or sealing system. They should conform to BS EN 1154:1997 Building Hardware – Controlled Door Closing Devices. Door closing devices fitted to fire-resisting doors are required to perform one of two functions, dependent on whether or not a latch is fitted to the door. These functions are considered "essential" in terms of the ability of the doorset to achieve its intended fire resistance rating.
Latched door: To close the door in a controlled manner into a position where the latch engages. In this case, once the latch is engaged, such closers will have no further essential role to play.
Unlatched door: To close the door in a controlled manner into its frame or, in the case of double swing doors, to its dead centre closed position, and maintain this condition for a period during fire exposure until the heat activated sealing system takes over the role of maintaining the door in the closed position.
Door closing mechanisms are divided into the following categories:
Face-fixed fire door closers – overhead mounted
Face-fixed fire door closers – jamb mounted
Concealed fire door closers – overhead mounted
Concealed fire door closers – jamb mounted
Floor spring door closers – floor mounted
Self-closing fire door hinges
Rising butt hinges
Surface mounted fire door closers can suffer damage and become inoperative during a fire if they are mounted on the exposed face of the door. If their sole function is to close the door with a latch, when they have done so any damage suffered will not be affect the integrity of the door. Recessed fire door closers will suffer less damage in a fire, but can produce a local weakness in the top panel of the door where they are installed. The ideal place is within the sill where it will cause the least interference with the performance of the door. A fire door closer used with double swing doors should not only close the door but also hold it firmly in the closed position. It needs to be strong enough to keep the door closed against any pressure to which the door leaf may be subjected in a fire. The only type of device which has been shown to be successful is a spring type mounted in the sill.
Door Coordinator Devices
Fire doorsets are usually required to be self-closing, in accordance with building regulations. When pairs of doors are used for fire resisting purposes, the door closing device fitted on each individual leaf should be able to close the door leaf reliably from any angle to which it has been opened and overcome the resistance of a latch or any seals when fitted.
When these pairs of doors have rebated meeting edges it is essential that the individual leaves close in the correct sequence, to maintain the fire integrity of the complete doorset assembly. In these circumstances there is a need for a door coordinator device (also known as a door selector) to ensure that, after opening, the first opening leaf of a pair of doors is held back from closing fully, until the second opening leaf has closed back fully into the frame.
Door coordinator devices are divided into the following categories:
Gravity arm coordinators
Swing arm coordinators
Double arm swing coordinators
Coordinators incorporated into door closing devices
Note: This list does not imply suitability of any particular device for fire door.
The door coordinator device and its accessories should be CE Marked to BS EN 1158 – Building hardware – Door coordinator devices or preferably should be provided with additional product certification by an approved third party certification body.
Fire Door Retainers for Self-Closing Fire Doors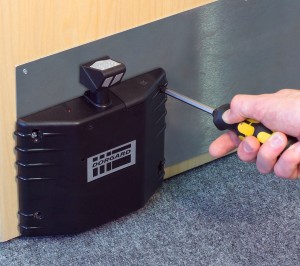 Fire doors are a weak point in any fire barrier because their primary function is to allow traffic to pass from one room into another. It is therefore important for fire doors to be kept closed when not in use. Fire doors are required to be self-closing and therefore have fire door closers fitted, which can pose significant obstacles to the young, elderly, infirm or disabled. Experience shows that convenience often takes precedence over safety and building users may seek to disable or otherwise undermine devices that inconvenience them in carrying out their work. Doors are often held open by wedges or fire extinguishers, which is not only unsafe but also illegal.
To be able to legally keep fire doors held in the open position in normal circumstances, fire door retainers (hold-open devices) are installed. The fire door retainers will release the fire door in the case of a fire allowing the door closers to close the fire door, preventing the spread of the fire. The fire door is also released when a manual release button is pressed or the power fails.
The following guidance is produced to give advice on the suitability and use of automatic fire door release mechanisms (fire door retainers). It aims to set acceptable standards of safety, while at the same time leaving scope for flexibility and the exercise of judgement in relation to individual circumstances.
Choice of fire door retainers
– Electromagnetic fire door retainers (hold open devices) can be used to hold a self-closing fire door in the open position with an electrically powered magnet. These devices are usually linked into a building's fire alarm system or are controlled from locally positioned smoke detectors. These magnetic door holders are best installed during the construction of a building.
– Acoustic fire door retainers (Dorgard) are fitted at the bottom of fire doors and can lock a fire door in the open position by pushing a plunger down. The acoustic fire door retainers then 'listen' for the sound of smoke alarms. As soon as a smoke alarm sounds, the Dorgard's plunger is withdrawn and the fire door is closed by the normal fire door closer. Dorgards can be set to release at night time. It is recommended to buy the latest Dorgard version, which has a five year warranty. The Dorgard is well suited for retrofit installation but should generally not be used on fire doors leading onto staircases. – Free-swing door closers are able to hold fire doors open in any position desired and allow the users to handle the door as if no door closer was fitted. They are usually fitted at the top of the fire door and exert no force on a door leaf during normal operation. They may include internal acoustic sensors to detect the sound of smoke alarms or can be linked to the fire alarm system. When activated by either the smoke alarm or fire alarm system, or in the event of power failure, the fire door closer element of the free-swing door closer activates and shuts the fire door in the same way as a normal closer. These devices are especially helpful where people with reduced mobility move (nursing homes etc). Free-swing door closers are either powered with an electric cable coming from the fire alarm system or battery operated (Freedor).
Before choosing the best solution for a fire door retainer. a site-specific risk assessment should be carried out and the following criteria should be appropriately applied: –
The door release mechanism should conform to BS EN 1155:
If devices are fitted to fire doors protecting the means of escape then the automatic fire/smoke detectors should be positioned in accordance with British Standard 5839 Part 1, for a Type L3 system as minimum, for example suitable detectors on the means of escape routes and in adjacent rooms opening onto those routes. If the means of escape route is fire protected then either smoke or heat detectors are considered suitable in the adjacent rooms, whilst if the route is unprotected, only smoke detectors should be used.
All automatic door releases should be triggered by each or any of the following: –

The detection of smoke by automatic detection
The actuation of an alarm by a manual fire alarm call point
Failure of the fire warning system
Acoustic signal from smoke alarms
Manual release

In sleeping premises each door fitted with an automatic door release should be closed at a predetermined time each night and remain closed throughout the sleeping hours. The method of achieving this may be either automatic or manual, depending on the type of release mechanism installed, but compliance with this will be a matter for the management regime of the premises/workplace
The release mechanisms should operate within 20 seconds of the fire alarm operating.
Doors fitted with release mechanisms should be provided with appropriate signage: e.g. Automatic Fire Door – Keep Clear
The devices must be tested weekly, in association with the testing of the fire alarm system, and maintained in accordance with the manufacturer's instructions. The regular release also helps to prevent warping of the fire door leaf. A record should be kept of all testing and maintenance activities. Doors fitted with such devices should be kept closed during periods when the fire alarm system is isolated for maintenance purposes
BS 7273-4:2015 – Code of practice for the operation of fire protection measures. Actuation of release mechanisms for doors
BS EN 1155:1997 – Building hardware. Electrically powered hold-open devices for swing doors. Requirements and test methods
Single Axis Hinges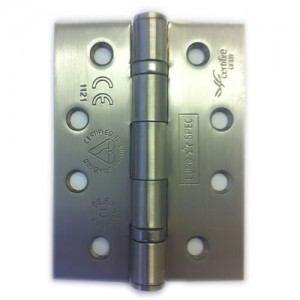 Hinges and latches have an important role in ensuring the integrity of the door. The fire door hinges must remain adequately screwed, in spite of the charring of wood in the vicinity. It is common to use three hinges although tests have shown that with some doors two hinges may be adequate for a 30 minute fire door (FD30). Steel and brass hinges are effective for a half-hour door, but only steel hinges will be satisfactory for a 60 minute fire door (FD60). For the latter, it may be necessary to use hinges with extended flaps (broad butts) so that fixing is maintained even when severe charring has taken place.
BS EN 1935: 2002: Building Hardware Single Axis Hinges is the current European standard for single axis hinges and being able to understand the CE markings, provided when purchasing hinges, is of some importance. Guide to Interpreting Markings for Single Axis Hinges.
The Building Regulations set out the circumstances in which rising butts may be used, although these are not recommended. In such a case compensation must be provided for the cut-out from the top edge of the door by increasing the depth of the stop.
Locks and Latches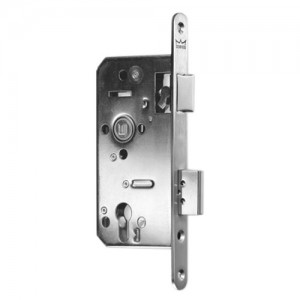 In order to provide an effective barrier to a fully developed fire, a door has to remain closed within the frame. In the case of single action doorsets, this role might be undertaken by a latch. Where the latch does not perform this role, there is a need for a lock to be fitted. This might be on a duct door which is normally kept locked with only occasional access to service equipment, or doors to cupboards. which for security reasons are locked for periods of time. Where security is in conflict with easy egress, consultation with the regulatory authority or fire officer should be made in order to reach a satisfactory solution. Sometimes a turn operated lock might suffice whilst in other cases specialist devices are available that can reduce this conflict to a minimum, such as panic escape devices to BS EN 1125: 1997 or emergency exit devices to BS EN 179: 1998.
In fitting locks or latches to fire-resisting doorsets, the potential fire performance of a doorset can be reduced due to:
removal of a section of the door leaf, door frame or seal
leaving voids within the structure of a timber door
adding materials which could cause heat transfer problems in a timber door
through fixings creating thermal bridges in a timber door
using materials of low melting point (less than 800ºC, or 900ºC for steel doors over 90 minutes resistance) in components which, if they should melt, could cause a failure of functionality of the device
locks containing materials which might flame
Locks and latches are divided into the following categories:
Roller catches
Rim latches
Mortise latches
Mortise locks, rim locks and deadlocks
Bored-in knob sets
Where mortise locks are provided, the cut-out in the door should be the minimum necessary to prevent any voids which fire can penetrate. After the edges, the mortise lock and latch areas represent the next zone of weakness. Filling the voids in the cut-out with intumescent paste will markedly lessen the weakness in this area.
As the latch is the only holding device on the closing edge it is important that it should be strong and that the nib of the latch should engage into the latch plate at least 12mm to ensure that the closing edge will not spring open when the door deforms. Extended flap latch plates are advisable for 60 minute fire doors.
Plastics and aluminium handles and knobs will be destroyed on the fire side but this may not have a serious effect on the integrity of the door if steel spindles are provided.
The lock or latch should be CE marked to BS EN 12209 or preferably should be provided with additional product certification by an approved third party certification body.
Letter Plates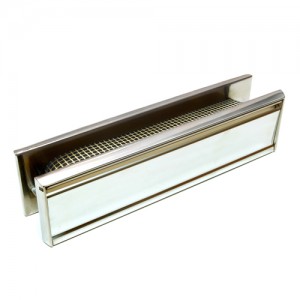 Wherever possible the fixing of a letter plate to a fire-resisting door should be avoided. Prime consideration should be given to installing the letter plate elsewhere. Both free standing and wall mounted postal boxes are available as an alternative.
Letter plates introduce a weakness in a door and those made of aluminium are likely to melt. Even with steel flaps, deformation can lead to integrity failure. A double flap of steel, one on each side of the door, is likely to be necessary to maintain integrity.
There are letter plates on the market which have performed satisfactorily in fire tests in timber and steel doors. It is recommended that a product of proven performance and durability be selected, which has been included in satisfactory fire tests to B8476:22 : 1987, or BS EN 1634-1, in a door of a similar or weaker type of construction to that in which it will be fitted.
Letter plates should ideally be positioned in the lower part of the door. and should conform to BS EN 13724 : Letter plates.
Panic & Emergency Exit Devices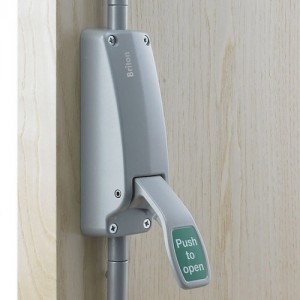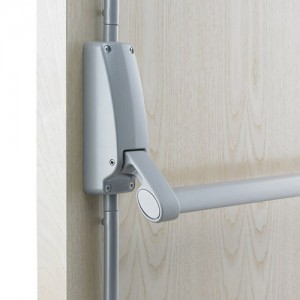 Experience relating to escape from buildings and general safety has shown the importance of fitting doors on escape routes with suitable exit devices to enable the occupants of the building to escape quickly and easily in the case of fire or some other emergency.
Factors to consider include:
Different groups of users will have differing requirements to enable them to make an effective escape and this has to be reflected in the type of device chosen. For example, in buildings frequented by the general public it is important that doors can be released easily by people who might have no training in emergency procedures or the use of the exit device, and might therefore panic in the rush to escape.
Other buildings might be occupied predominantly by authorised personnel, who have been trained specifically in the procedures for escape, and who are therefore unlikely to panic in the case of an emergency.
Where escape route doors are part of the final exit from a building, there will be some additional requirements for security of the door against intrusion and burglary. In this case there can be a conflict between the requirements of building users to be able to escape easily and the requirements of building owners to secure their building and its contents against crime.
Where escape route doors are part of the fire compartmentation of the building there will be additional requirements to ensure that the escape hardware fitted does not compromise the fire-resisting performance of the doorset.
Therefore, exit door hardware is divided into the following categories:
Panic exit devices (for use where panic situations may be envisaged)
Emergency exit devices (for use by trained personnel where panic situations are not envisaged)
Exit devices for use on fire-resisting doorsets
Accessories for exit devices
Note: This list does not imply suitability of any device for fire or escape door use
The device and its accessories must be chosen taking account of the type of user:
Devices intended for use by the general public should be CE Marked to BS EN 1125 – Panic exit devices operated by a horizontal bar, and preferable provided with additional product certification by an approved third party certification body.
Devices for use by trained personnel should be CE Marked to BS EN 179 – Emergency exit devices operated by a lever handle or push-pad, and preferably provided with additional product certification by an approved third party certification body.
If there is any doubt about the conditions relating to building occupancy, it is recommended that devices covered by BS EN 1125 (panic exit devices operated by a horizontal bar) be specified.
Definitions
Accessible route
– Any route that is used to approach, or move around or within a building, and is accessible to disabled people.
Closing moment – Torque (Nm) generated by a door closing device which acts upon the door leaf during the closing operation.
Cylinder – Key operated device contained in lock or latch.
Deadbolt – Bolt that is operated in both directions by a key, handle and/or thumb turn.
Deadlock – Lock that contains only a deadbolt.
Dogging mechanism – Mechanism fitted to an emergency/panic device for holding the bolt head(s) in the withdrawn position until manually or electronically reset.
Doorset – Assembly of fire door leaf, frame, hinges and all other hardware, and including any fire or smoke seals.
Escape route – Route forming the means of escape from any part in a building to a final exit.
Final exit – An exit from a building where people can continue to disperse in safety and where they are no longer in danger from fire and/or smoke.
Fire integrity – Measure of the ability of a specified doorset to resist and thus contain the effects of fire for a recognised period of time. (Usually expressed in minutes – e.g. FD60 or E60 implies a doorset capable of withstanding exposure to fire test for at least 60 minutes).
Latch bolt – Moving part of a latch that engages the locking plate.
Mortise latch – Latch for fixing in a mortise, usually in the closing edge of a door leaf or window.
Mortise lock – Lock for fixing in a mortise, usually in the closing edge of a door leaf or window.
Rim lock – Lock for fixing on the face of a door leaf.
Tubular latch – Mortise latch, which has a case shaped to fit into a cylindrical mortise.
Additional Information
The Door and Hardware Federation – 'Code of Practice for Hardware for Fire and Escape Doors' is an excellent publication and provides in depth information on many types of fire and escape door fittings and ironmongery. See
Door & Hardware Federation
The following European Product Standards have been published as British Standards:
* These standards are "harmonised". This means that products successfully tested to them can be CE Marked.
Categories:Fire Safety Equipment
March 15, 2011[Last updated: April 6, 2016]