Nearly two thirds of all domestic fires happen because of cooking. The kitchen is the single most dangerous place in your home. This section covers how to keep safe while cooking and what to do if a fire starts in your kitchen.
Making the Kitchen Safe
Steps you should take to make the kitchen a safe place:
Cooker
Keep electrical leads from trailing over or going near the cooker.
Do not hang tea towels or cloths on or over the cooker.
Keep the oven, hob and grill clean. A build-up of fat and bits of food can start a fire.
Microwave
Do not put anything metallic inside the microwave
Do not dry clothes in the microwave
Electrical
Keep electrical leads away from water
Do not put a plant pot or anything wet on top of an electrical appliance
Check the toaster is clean and well away from curtains
Do not overload sockets; one plug per socket is the rule, especially if the appliance takes a lot of power (like a kettle)
Do not run extension cables across the floor as they can become worn
Electrical appliances
Electrical appliances especially those that work at high speeds, such as the washing machine – should be serviced each year
Do not leave appliances such as washing machines or dishwashers on at night
Is the kettle leaking? This can be dangerous
Ventilation
Make sure your ventilation is working properly and not blocked up, especially if you have a gas cooker
Protection
Buy a heat alarm for your kitchen. Heat alarms are not triggered by burnt toast but will warn you of a real fire in the kitchen
Cooking Safely
The most important point about cooking is to avoid being distracted. Most kitchen fires occur when people leave things unattended.
If you're called away from the cooker by the phone or by someone at the door, take pans off the heat. It's the easiest thing in the world to forget about them.
Do not cook if you're affected by alcohol or prescription drugs.
Turn saucepan handles so they do not stick out where they can be accidentally knocked, and are not over another hot ring.
Keep the oven door shut.
Do not put oven gloves or tea towels down on the cooker after you've used them.
Always clean the grill pan after using it.
Deep Fat Frying
Deep fat fryers fires cause one fifth of all accidental dwelling fires attended by the Fire and Rescue Service in the UK each year. About twenty people are killed or injured every day in accidental fires that start in their kitchen, the most common of these are caused by deep fat frying. If you do choose to use a deep fat fryer, make sure you do it safely.
Think about what you are doing when you are deep fat frying. Remember you are heating several pints of oil to extremely high temperatures. The oil can cause terrible burns and go up in flames. In fact, it's an ideal fuel for a fire and difficult to put out.
A few tips:
Never fill a deep fat fryer more than a third full of oil.
The safest way to deep fry is to use a thermostat-controlled electric deep fat fryer. Its thermostat stops it from overheating, better still – choose oven chips.
Never leave your cooking unattended. Even if the phone or doorbell rings. Remember, fires start when your attention stops.
Dry your food in a clean tea towel before putting it in the fryer this is because water can make the oil erupt violently.
Test the temperature with a small piece of bread or potato. If it crisps quickly, the oil is too hot so turn off the heat and leave it to cool.
If there are flames, NEVER throw water over the pan it will erupt violently spreading the fire.
If you have consumed alcohol, do not be tempted to cook with a chip pan.
Dealing with a Fire in the Kitchen
The Fire Service usually recommends that if you have a fire in the kitchen, do not take any risks, get everyone out of your home and call the Fire and Rescue Service. If you are not sure you can handle the fire or if it is spreading from its starting point then it is almost certainly already too big and you should leave the building. If you cannot deal with the fire, close the door on the way out and call 999.
If it is a deep fat fryer
If a pan of food or chip pan catches fire do not attempt to remove it from the stove, it could give you terrible burns if incorrectly handled.
Turn off the heat if it is safe to do so, but never lean over the pan to the controls, switch off the supply at the meter if necessary.
NEVER throw water over it.
Do not use a general fire extinguisher on a pan filled with oil or fat. The ONLY fire extinguishers safe for deep fat fryers are wet chemical extinguishers! Never use traditional foam or powder extinguishers on burning fat or oil.
If you use wet chemical extinguishers, make sure you empty the entire content of the extinguisher on the oil, even if the flames have been doused already! This prevents re-ignition.
Leave the pan to cool completely.
Dial 999 and call the Fire and Rescue Service
If electric appliances are involved
Pull the plug out or switch off power at the fuse box. This may stop the fire immediately.
Smother the fire with a fire blanket. Water mist extinguishers with de-ionised water can be used as well if they have been tested to 35kV. Some wet chemical extinguishers are also suitable for such risks.
Dial 999 and call the Fire and Rescue Service
Fire Extinguishers for the Home
There are two schools of thought on whether you should provide fire extinguishers in the home. One says do not attempt to extinguish a fire, get out and call out the fire and rescue service. This view assumes that an untrained person cannot and should not tackle a fire but it is also influenced by the fear of litigation if anybody gets hurt in tackling a fire. The other viewpoint is that it is up to the individual and whether they consider themselves capable and if so, they should have a go if the fire is at the very early stages and safe to tackle. This view is supported by national statistics which reported some time ago up to 47% of fires are not reported to the Fire and Rescue Service which would suggest the fires were extinguished by the occupants.
If you fall into the second group and wish to purchase fire extinguishers for the home, there are a number of suitable choices:
A domestic fire blanket which is sited in the kitchen or close to the kitchen in the line of exit.
A second option is to install a specialist kitchen extinguisher which can be safely used on fat fryers etc. There are two groups of kitchen extinguishers:

ABF rated wet chemical extinguishers suitable for deep fat fryers as well as general risks
If you do not use deep fat fryers water mist extinguishers (also called dry water mist) are probably the best choice in a home kitchen. Commercial kitchens will usually opt for wet chemical extinguishers.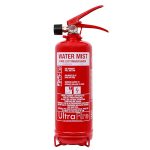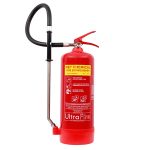 If you do purchase fire extinguishers make sure you read and fully understand the instructions. If necessary look for training on the use of extinguishers by fire experts.
Categories:Fire Safety at Home
February 9, 2022[Last updated: February 9, 2022]