What is a fireproof safe?
A fireproof safe is a fireproof storage unit that is designed to protect its contents in the case of fire. The term is often used as a general reference for fireproof boxes, safes, cupboards and filing cabinets through to customised, larger storage facilities such as strongrooms and vaults. Depending on their technical classification, some fire safes also offer water resistance from external sources such as sprinklers, hoses and even flood water for a specified length of time.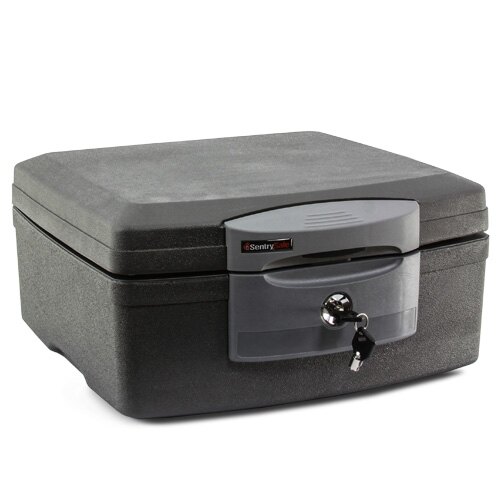 Above: Fireproof Box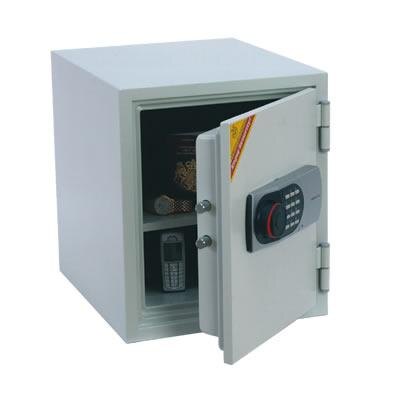 Above: Fireproof Safe
What type of fireproof safe do I need?
In order to decide on the most appropriate fireproof storage unit for your needs, you must first consider the physical properties of the actual product(s) you wish to protect. The test criteria and fire ratings of safes are focused on three main types of product:
Paper: passports, certificates, insurance policies, deeds, legal documents and cash (notes).
Digital media: USB / memory sticks, DVDs, CDs, digital cameras, iPods, MP3 players and external hard drives.
Data / magnetic media: computer back-up tapes, computer diskettes (floppy disks), traditional internal hard drives, video tapes and audio tapes. Cellulose based materials such as film, negatives, transparencies and microfiche are almost as vulnerable to the hazards of a conflagration as data media and should therefore also be stored in a fireproof data safe.
These distinctions are made by manufacturers because each type of media starts to degrade at a different temperature, as follows:
Paper:              177 °C / 350 °F
Digital:            120 °C / 248 °F
Film:                66 °C / 150 °F
Data:               52 °C / 125 °F
Data media must also be protected from the electro-magnetic interference generated by a fire, as this will corrupt information that is magnetically captured.
A fireproof safe comes under attack externally from smoke, flames, dust and hot gases, with the temperature of a blaze typically rising to around 450 °C / 842 °F, although this can be much higher depending on the nature of the fire and the materials that are combusting. Humidity inside the safe can also constitute a hazard for data media and film, as they start to degrade above a certain humidity level. Test criteria for these types of fire safe therefore include the following:
Film:    85% humidity restriction
Data:   80% humidity restriction
N.B. Protection against critical levels of humidity inside the safe is not the same as protection from outside water sources, although this mistake is commonly made.
Another point to consider, especially when buying a fireproof data safe, is that its internal dimensions will be much smaller than its external appearance might at first suggest, due to the amount of insulation material required to keep the temperature inside the safe below the critical 52 °C / 125 °F level. It is therefore important to check that its storage capability is sufficient for your requirements. Still on the subject of computer media, some fire safes offer USB connectivity which allows data to be backed up onto a hard drive permanently stored inside the safe.
Other issues to consider include the fire rating of the safe, i.e. the length of time for which its fire resistance is certified. Test standards range from 30 minutes through to 240 minutes, with the safe exposed to temperatures ranging from 843 °C / 1550 °F to 1093 °C / 2000 °F depending on the testing house.
Security issues and locking devices
It may be that, as well as fire resistance, your safe must offer burglar protection. From the point of view of insurance, it is recommended that you check with your insurance company / underwriters to find out how much cover they are prepared to offer in respect of the valuables and / or cash to be stored in the fire safe, as this will depend on a number of factors, including the location of the safe, and not just on the insurance rating per se. For example, if it were possible for a burglar physically to remove the safe, consideration must be given to the wider security of the premises in which it is housed.
Securing a fireproof safe against unauthorised access under normal conditions of operation may also be of importance if it contains sensitive data, cash and / or valuables. There are two main types of locking device for fire safes: keylocks and electronic locks.
Keylocks
Keylocks for fireproof safes (apart from the underfloor versions) are usually supplied with two keys that are either dimple cut or, for higher security, double bitted. This limits access to the safe to two people, which can be seen to increase security, but can also pose a problem if, for example, one of the keyholders leaves the organization without returning the key. The worst case scenario is that the entire lock will have to be replaced.
An additional level of security protection is offered via a key plus combination lock, in which a combination dial is located adjacent to the cylinder lock. This enables dual custody of the safe, with one person knowing the combination and the other holding the key. The former can either be a fixed wheel dial, which is set to a particular combination for life, or a changeable combination, which is a more expensive option.
Electronic locks
Electronic locks are powered by batteries, which may be located either inside or outside the fire safe. In the former case, a key override is always provided in case of battery failure resulting in lockout. An advantage of electronic / digital locks over key locks is that as many people as required to have access to the safe can be given the keypad code, which can easily be changed if someone leaves the organization.
It is also possible for digital locks with programmable codes to incorporate an audit trail, in which individual key codes are associated with individual users. This enables a record to be generated of who has accessed the safe and when.
In recent years, technological advances have resulted in the biometric lock, which depends on either fingerprint or iris recognition to open it.
Categories:Uncategorized
December 29, 2012[Last updated: January 12, 2022]